About Canton Construction
Meet Tom Schorn, Owner of Canton Construction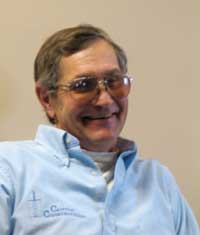 Let me introduce myself, I am Tom Schorn and am based in Canton, South Dakota, located 20 miles south of Sioux Falls, South Dakota, near where the South Dakota, Iowa and Minnesota borders come together. I first started jacking bins in 1976 for a number of companies as a sub-contractor. When the government storage program came to an end, I started working for a company on grain dryers and grain bin systems. After that, I did millwright work for other companies, then started my own company.

I decided to established Canton Construction in January of 1990. I began as a millwright, doing steel construction for commercial grain elevators. Because of my past experience, and due to the shortage of jackers, in July of 1997 we began building commercial-size grain tanks again.

Canton Construction will put up grain tanks based on per pound cost. This is based on actual invoiced shipping weight, and includes all bin accessories. This estimate will include company insurance, labor, misc. steel and parts, equipment, accessories, and other materials including caulk, bolts, and paint. All material and equipment will be installed to be dust and weather tight and painted in recommended areas in a professional way.

Lien waivers can be produced on all materials and equipment upon final payment at an additional charge. Extra charges can be expected on all other additions and conditions, and are dependent on the bin type and size. Any other special equipment must be discussed before acceptance and confirmation of the job, and must have complete instructions on site at the scheduled time of installation. Crane, tax, freight and electrical costs are not included and are considered extra.

Canton Construction will have a certificate of liability insurance policy provided from our agent if requested. The specified project is to be completed in conformance with all specifications and conditions relating to this agreement. All warranties are the same as the manufacturer's and will be backed by us to the extent of the their warranty. In addition, the project is to be performed in compliance with OSHA regulations, and we agree to stand behind our workmanship after the project is completed.

Canton Construction, in respect to the contractor, will be responsible for their employees, sub-contractors, materials, equipment and all applicable taxes, benefits and insurances. Also we accept responsibility for coordinating our activity with other trades and promptly cleaning up any surplus or refuse which was created by our work on this project.

We, at Canton Construction, appreciate the opportunity to bid and it is our hope to assist you on this project.